Congratulations to Eddie Dawkins – Getstrength Athlete, Sam Webster, Ethan Mitchell . Well done guys smashed it! You have made NZ proud.
New Zealand struck gold for the first time at the Commonwealth Games in real style at the Chris Hoy velodrome today.
The trio of Ethan Mitchell, Sam Webster and Eddie Dawkins flew around the 250m track in a Games record time of 43.181 seconds, eclipsing the record they had set in qualifying a couple of hours earlier.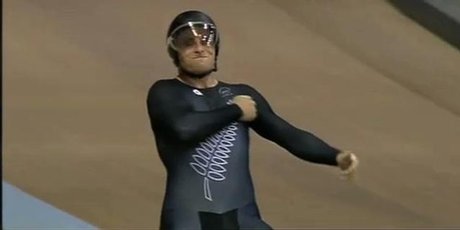 The ebullient Dawkins immediately lifted his bike above his head saluting a block of New Zealand fans, before a New Zealand flag was produced and draped around the trio's shoulders.
"We came here to win gold and to walk away with that is just…unreal," Mitchell told Sky Sport.
"I think we just had to do the same process we did in the qualifying, we rode really well.
We went out quicker and to back up like that is a credit to how fast these guys [Webster, Dawkins] go really."
They always had their noses in front of gallant England, who recorded a time of 43.706s.
As world champions, courtesy of their victory in Cali, Colombia earlier this year, they were favourites. But it's one thing to have that mantle; another altogether to justify the tag.
The bronze medal went to Australia, who comfortably saw off Canada in the third-fourth ride-off.
There were no hiccups, just top quality team riding. They were riding in the order which clearly works, Mitchell out first, Webster hammering through the middle stage with Dawkins charging hard to complete the job.
"I'm over the moon; couldn't be happier," said head sprint coach Anthony Peden.
"They're just a class act at the moment; they've done all the hard work. Two PBs (personal bests) as well as two Commonwealth records at sea level, very solid by every rider.
"It takes three riders to win a race and every one of them brought their A games today. I'm proud, real proud.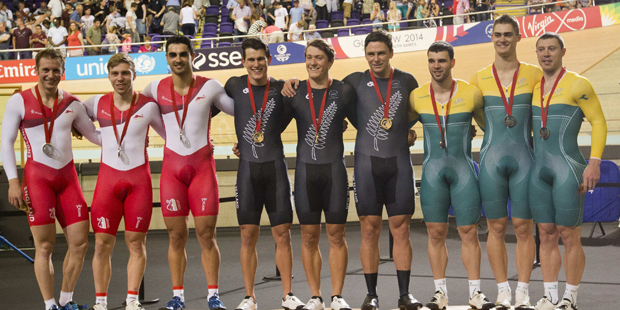 Sam Webster, Ethan Mitchell and Eddie Dawkins celebrate their gold medal on the podium alongside England, left, and Australia. Photo / Greg Bowker
Peden actually thought the trio might have gone quicker in the final – "but that's not a bad thing. We've got two or three more days of racing. It just showed. Great Britain (England) brought their A game to the final, they lifted again…I'm just rapt."
The three had excuded a quiet confidence in their ability to back up the world championship performance.
They gave the concept of being beaten barely a thought during their preparation.
It simply did not come into the equation.
"We don't really think about anything but the gold. Each training session is about striving for that," Aucklander Mitchell had said before the day's racing began.
The men's team pursuit won a bronze, easily, capturing Canada at around halfway on the journey.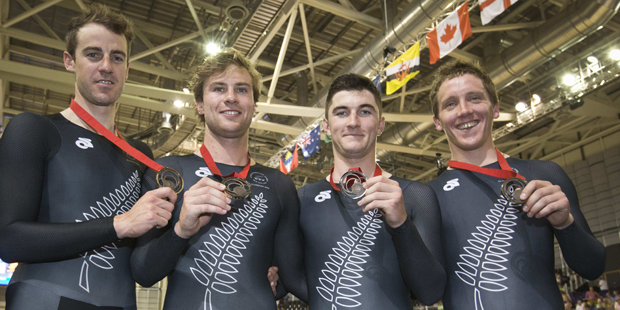 Marc Ryan, Pieter Bulling, Dylan Kennett and Shane Archbold celebrate their bronze medal. Photo / Greg Bowker
There was a touch of bitter sweet about it. The riders knew they had a royal chance to have been riding for gold but were off their game in the morning qualifying. They clocked 4min 00.501s, over a second behind England.

McKenzie, a late callup to the Games squad, more than justified her inclusion by clocking 34.444s.
Champion Australian Anna Meares won in a Games record time of 33.435s with aother Aussie Stephanie Morton second and England's Jess Varnish third.
– originally posted in the  NZ Herald
By David Leggat in Glasgow 6:13 AM Friday Jul 25, 2014